HiFiBerry DAC+ DSP
HiFiBerry DAC+ DSP
4 piece(s) directly available from stock.
Shipped on Friday when ordered now.
Description
Overview
The HiFiBerry DAC+ DSP is a high-resolution digital-to-analog converter for the Raspberry Pi. It combines a Burr-Brown DAC used on the HiFiBerry DAC with digital input and output and also comes with a powerful digital signal processor.
Facts
Stereo analog output (sample rates up to 192kHz/24bit)
Stereo digital input and output (input up to 96kHz, output up to 192kHz)
300 MHz Digital Signal Processor (6144 instructions per sample incl. FFT and FIR accelerators)
Dedicated 192kHz/24bit high-quality Burr-Brown DAC
High quality asynchronous sample rate converter that can upsample/downsample/mix audio sources
Onboard EEPROM allows to board to boot and run even without the Raspberry Pi
Users can upload programs developed with Analog's SigmaStudioStereo input and output
Connects directly to the Raspberry Pi, no additional cables needed
No soldering, comes as a pre-fabricated kit. You just plug it onto the Raspberry Pi, it is conform to the Raspberry Pi hardware-attached-on-top (HAT) specification.
Compatible with all Raspberry Pi models with a 40-pin GPIO connector
Directly powered from the Raspberry Pi, no additional power supply
Gold plated RCA output connectors
Comes with all components required to mount it
Connectors and Jumpers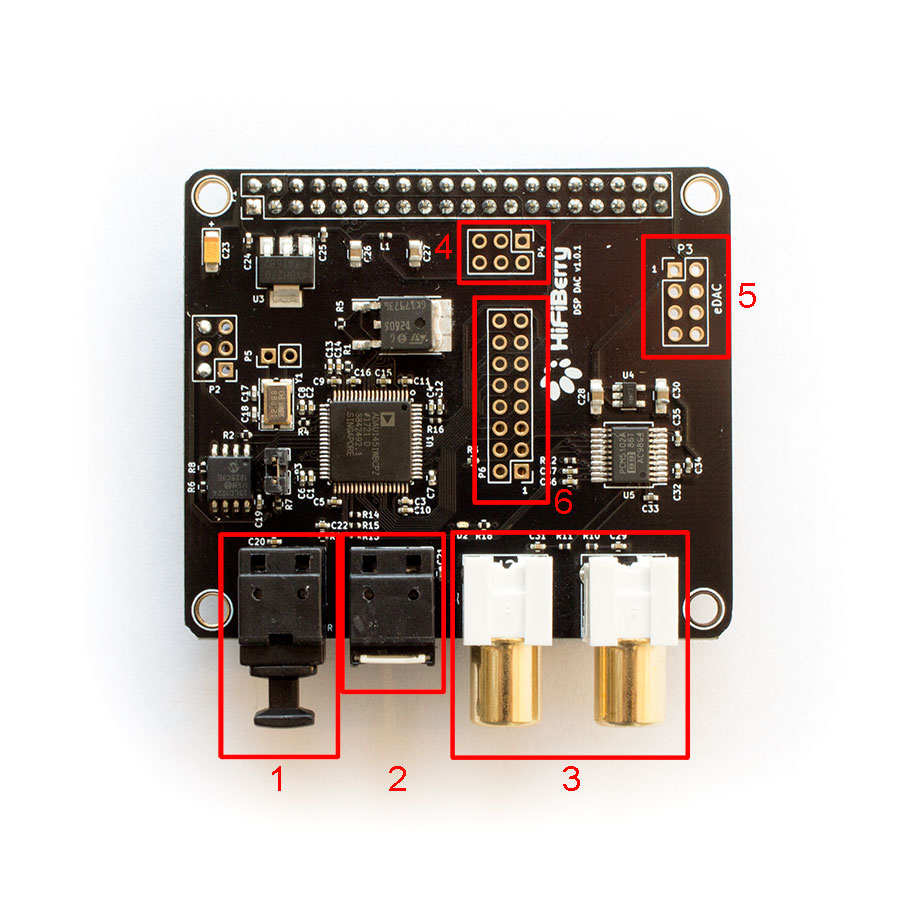 | | |
| --- | --- |
| 1 | TOSLink input (up to 96kHz) |
| 2 | TOSLink output (to 192kHz) |
| 3 | Analogue output |
| 4 | DSP Analogue inputs (P4) |
| 5 | external DAC I2S output (eDac) |
| 6 | DSP digital inputs and outputs |